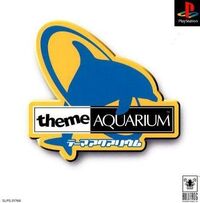 Theme Aquariumis a simulation video game developed by Bullfrog Productions and published by Electronic Arts, in which the player creates and controls a sea life aquarium.
It was originally released on December 17, 1998 for PlayStation only in Japan.[1] The game was later ported to Microsoft Windows under the name Aquarium and was released in Europe.
Gameplay
Edit
The gameplay is very similar to the other games in the Theme series, and the graphics are similar to Theme Hospital.
In Theme Aquarium, the player begins with an expanse of empty floor space and the task is to construct a maritime attraction for visitors which must be filled with interesting and appropriate creatures at the same time as dealing with all the attendant challenges of running a profitable business.
There are two ways of getting fish and other sea life, either by buying them off sellers or by catching them yourself. Dolphin shows can also be created and serve as the star attraction of the aquarium. Staff must be hired to maintain the aquarium and also to take proper care and attention to the animals.