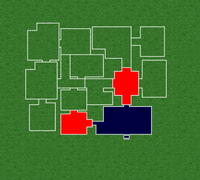 Eggsenham is a hospital which act as the tenth hospital and level of Theme Hospital which the player must manage successfully, by meeting the level aims. This level is a little bit harder than the last with harder aims. It is a play on on the word Egg and Ham.
Get a reputation of at least 650.
Have a bank balance of at least $500,000.
Cure at least 65% of visitors.
Cure at least 500 people.
Hospital value of $220,000
 Trivia
EggsenHam is the only hospital past Simpleton to not have any Earthquakes in the entire level.
Despite the size of the hospital the width size is very small
Ad blocker interference detected!
Wikia is a free-to-use site that makes money from advertising. We have a modified experience for viewers using ad blockers

Wikia is not accessible if you've made further modifications. Remove the custom ad blocker rule(s) and the page will load as expected.